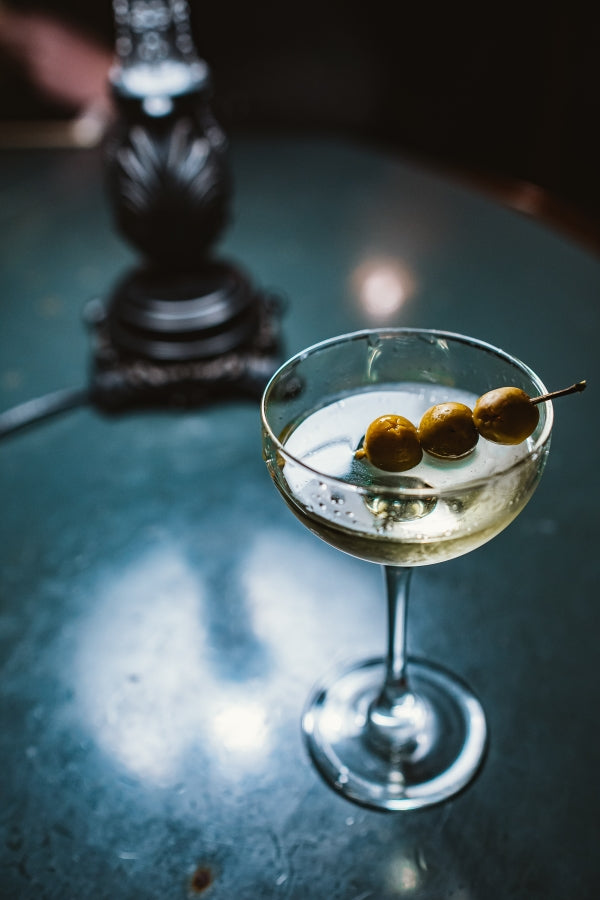 Equipment
Large mason jar

 

or

 

sealable plastic container

 

(1L or larger)
Fine mesh strainer
Paper coffee filter
Mixing glass
Bar spoon
Cocktail strainer
Jigger
Martini glass
Yield:
makes 1 cocktail plus extra infusion gin
Time:
25 hours, 5 minutes
For the Olive Oil & Herb Vodka (or Gin)
We prefer vodka for this martini as it places focus on the intense flavors of MANNI Per Me, however if you prefer to drink Gin by all means do as it makes for a more floral martini.
One 750-mL bottle Russian Standard Vodka or London Dry Gin
4 oz. (¼ cup) MANNI Per Me organic olive oil
1 large sprig fresh rosemary
1 large sprig fresh thyme
For the Martini
2½ oz. (5 Tbsp.) olive & herb-infused vodka
½ oz. (1 Tbsp.) blanc vermouth
Pinch of fine sea salt
Pitted green olives for garnish
Instructions
A day before you plan to use the vodka, start the infusion: To a large jar or airtight plastic container, add the vodka, olive oil, rosemary, and thyme. Shake vigorously, then set aside at room temperature to infuse for 12 hours.
Transfer the jar to the freezer for another 12 hours (or overnight). This will cause the olive oil to solidify and separate. Place a fine mesh strainer over a second large jar or container, then strain the vodka, discarding any solids. Wash and dry the original jar and the strainer then line the strainer with a coffee filter. Strain the vodka once again to remove any remaining sediment and oil. Use immediately or cover tightly and use within 6 months.
Mix the martini: In a mixing glass filled with ice, add 2½ oz. of the infused vodka, along with the vermouth and salt. Stir until well-chilled, then strain into a martini glass or coupe, drizzle a few drops of MANNI Per Me, and garnish with as many olives as you like. Serve immediately.
Note: For optimal enjoyment it's important to drizzle the MANNI Per Me after shaking and just before serving as shaking the oil with the ice will cause the oil to freeze and solidify.
This recipe was originally created by Erik Delanoy for Saveur Magazine.