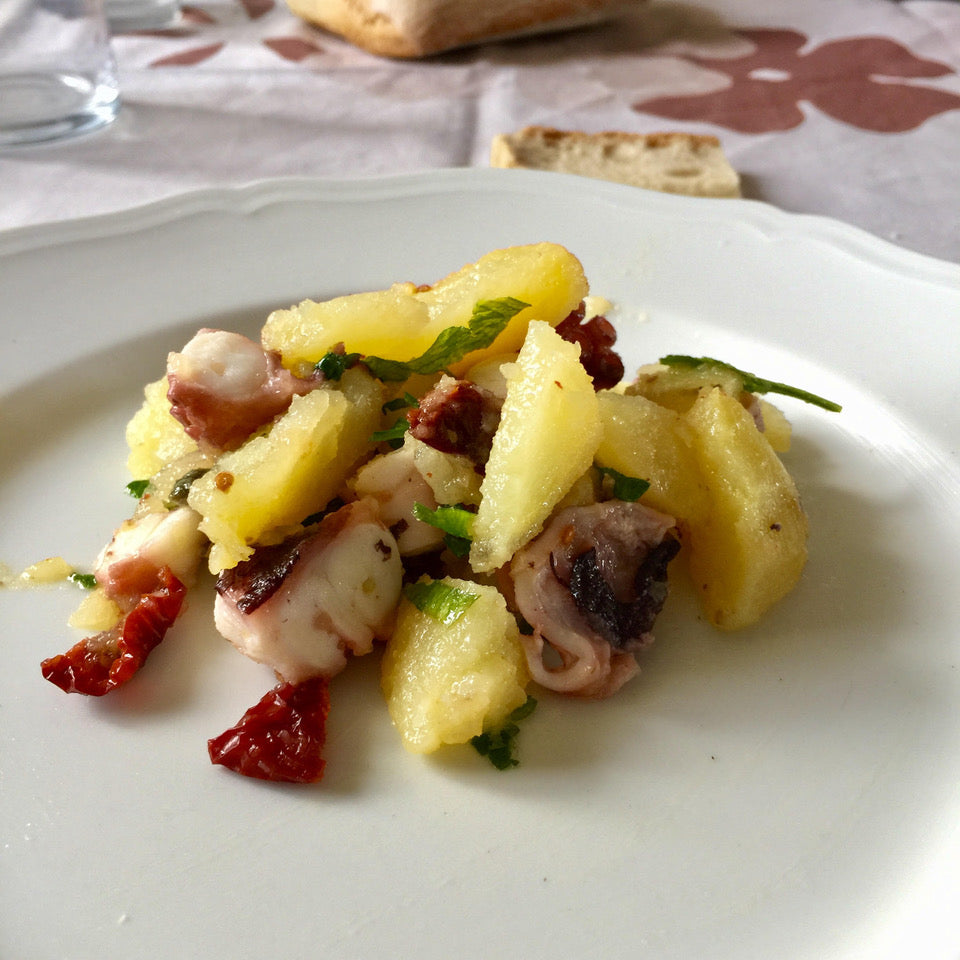 This delicious seafood dish is easy to make and will transport you to the Italian seaside summers. We love the contrasting textures of tender octopus and hearty potatoes finished off with a savory and umami sauce of olive oil, capers, and sun-dried tomatoes. Mmmm...bliss.
Ingredients:
1 octopus
600 gr potatoes
1 sprig of parsley
1 clove of garlic
40 ml Manni oil
1 lemon
1 pinch of salt
1 chilli
q.s. capers and dried tomatoes
Freeze the Octopus for 1 day in your freezer to make it tender (or purchase frozen). Bring water to a boil in a large stock pot (I recommend adding the parsley stems, 6 black pepper grains and 200ml of white wine to the water). When the water is boiling put the frozen Octopus in the water and bring the water back to a boil. Depending on the size of the octopus, let it sit in a slow boil for about 15-25 minutes. Turn off the heat and leave the Octopus in the water until the water is almost cold (it'll take a couple of hours). This will make the Octopus very tender. Remove the octopus from the water and pat dry before cutting into bite sized pieces.
Separately we cook the potatoes which will have to be boiled. While the potatoes and octopus are cooking (for about 40 minutes) we prepare the sauce: with a crescent we chop the parsley, the clove of garlic, the capers and the dried tomatoes. We sprinkle everything with the Manni oil and let it flavor. As soon as they are cooked, add the potatoes. Make sure the octopus has rested for at least 30 minutes and then add it to the previous mixture.