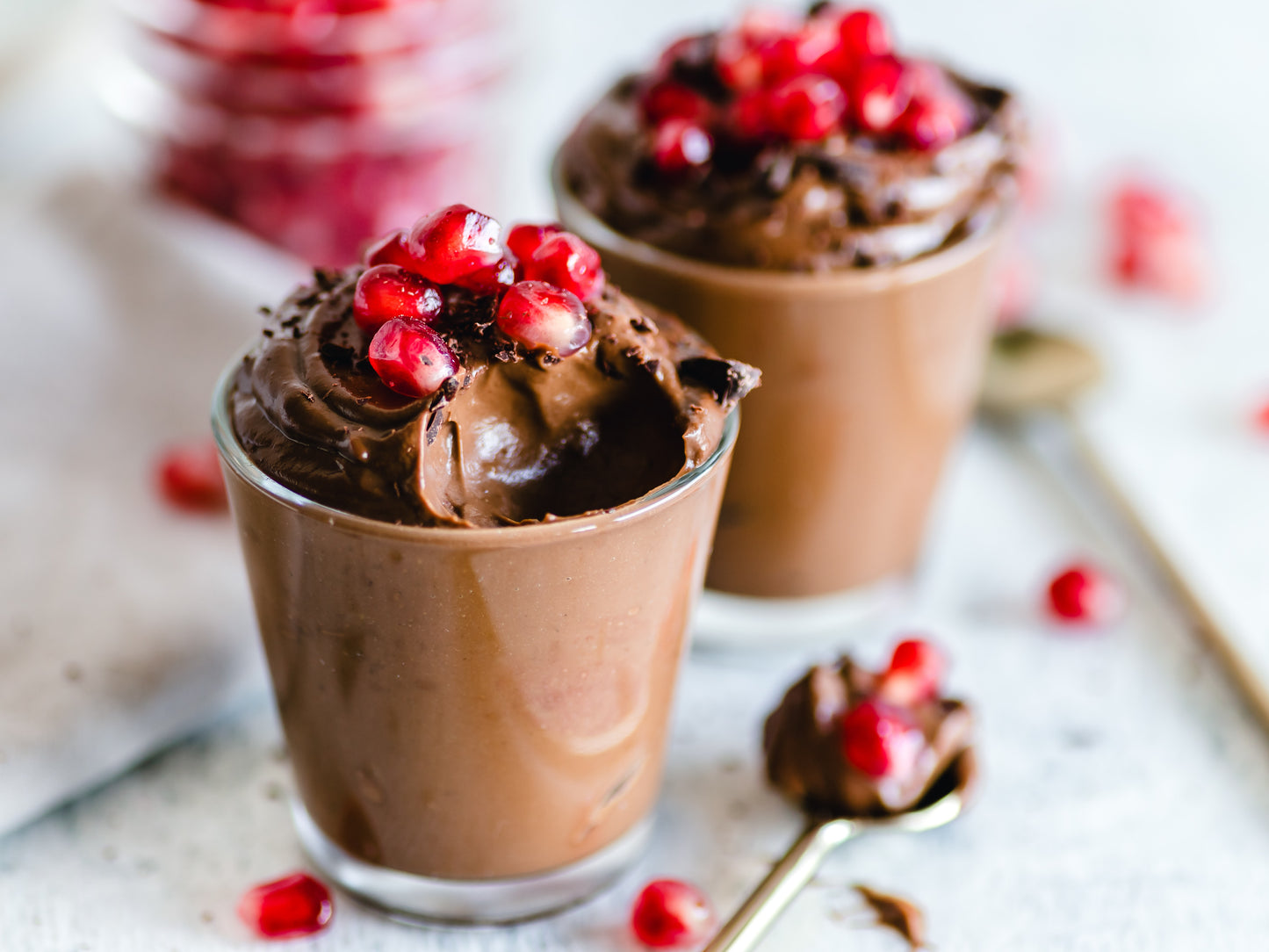 The secret to a truly decadent chocolate mousse is in the texture. The perfect mousse is light and airy on the spoon yet liquifies into a seductively rich and silky cascade of chocolate that envelopes your taste buds. Olive oil happens to be the perfect delivery system for chocolate. The lower melting point gives the chocolate mousse a luscious mouth-feel and the alchemy between MANNI organic, extra-virgin olive oil and K+M Chocolate amplifies the antioxidant properties in both--are you seduced yet?
-Pomegranate seeds for garnishing 
1. Melt the chocolate making sure you remove it from the heat or the microwave before it is completely melted. Then, stir till the pieces of chocolate dissolve. Leave it to cool for about 10 minutes and then stir in MANNI Per Me olive oil and set aside.
2. Whisk the egg whites with a pinch of salt in a bowl until you get firm peaks. Set aside.
3. Whisk the yolks with sugar and ¼ teaspoon of salt in a separate bowl until pale and doubled in volume.
4. Gradually pour the chocolate and oil mixture into the beaten yolks and mix completely. Add ⅓ of beaten egg whites and fold in to lighten the mixture. Then, gently fold in another third of egg whites. When this second lot is incorporated, add the final third of beaten egg whites. No white streaks should be visible at this point.
5. Gently spoon the mousse into the cups and garnish with pomegranate seeds before serving.
You can either refrigerate for 20 minutes and eat straight away, or refrigerate them for an hour, take them out and let them come to room temperature before indulging (if you can wait that long).