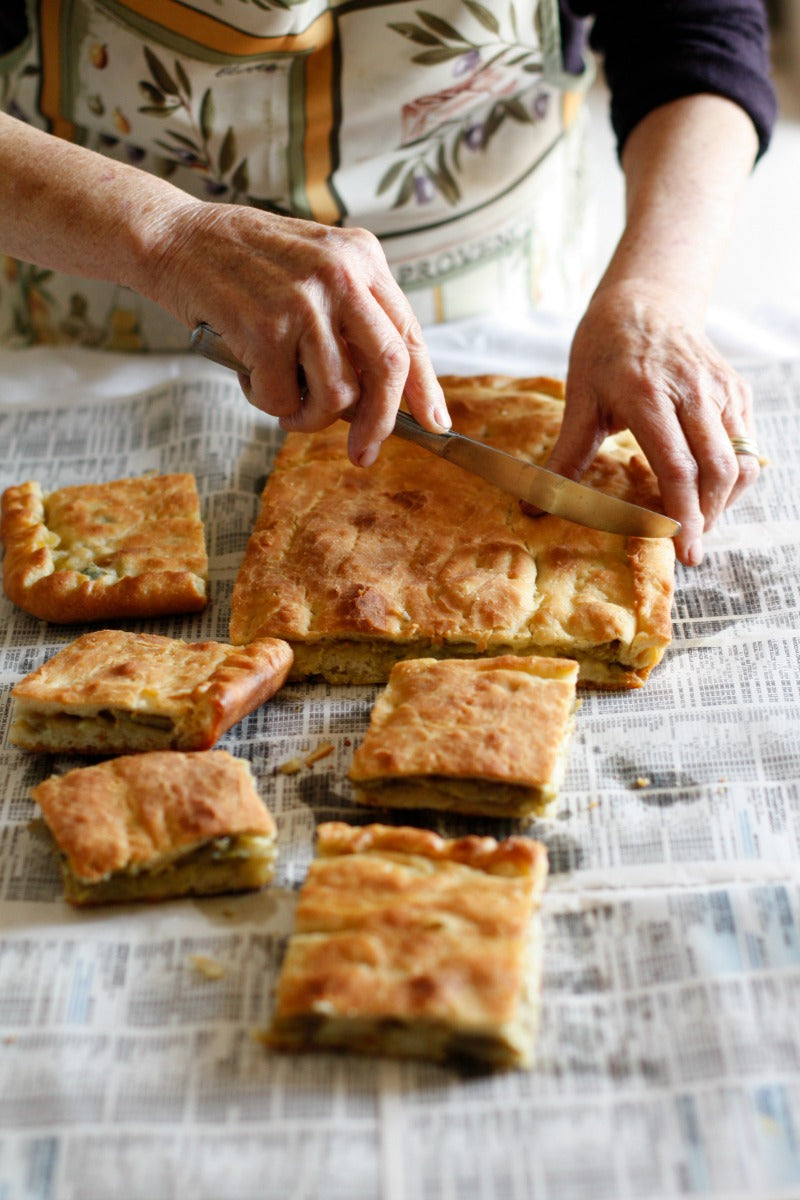 It's artichoke season and we remember coming home after school to a warm slice of Nonna's famous artichoke focaccia. It's crunchy on the outside, fluffy on the inside and stuffed with artichokes and mozzarella. With extra oil for dipping the nutty flavors of the Per Mio Figlio organic olive oil and artichokes produce an alchemy with the gooeyness of the mozzarella and soft focaccia that tastes like grandma's love and brings warmth to our soul. Save this recipe in your browser as it'll be one you keep going back to. 
Ingredients:
- 500 g of flour
- a boiled potato passed in a potato masher
- half a cube of brewer's yeast
- 16 g of salt
- 1 teaspoon of sugar
- 350 g of water
(For the stuffing)
- 4 artichokes
- parsley
- 300 g of mozzarella (maybe from the day before)
- 3 eggs
- a handful of grated cheese
Method:
On a pastry board or in a mixer combine the flour, potato, salt and sugar and mix.  Dissolve half a cube of brewer's yeast in 350 g of warm water and mix everything together.  Form a ball, lightly flour it, put it in a large bowl, cut a cross with a knife, cover with a lid and wrap in a blanket.
Let it rise until doubled in volume (about 1 hour).
In the meantime, clean the artichokes, removing the outer leaves and discard.  Cut the artichoke hearts into wedges and immerse them in water acidulated with lemon.
Divide the leavened dough into two parts and roll out two round sheets with a rolling pin. In an oven pan pour a little MANNI organic extra virgin olive oil (we use Per Mio Figlio for this recipe) and lay down the first sheet, letting the edges come out.
In a bowl, mix the drained and buffered raw artichokes, raw parsley, diced mozzarella, eggs and cheese. Spread the mixture on top of the first sheet of dough in the pan and cover with the other piece of dough.  Close the edges. Prick the top layer of dough, drizzle with MANNI Per Mio Figlio and bake at about 200 ° until golden brown.
Cut into squares and serve with more MANNI oil for dipping if desired.